Planning the big day soon? Want to have a professional wedding video made as a keepsake of the special event? Do you need music for your video?
In this post we will cover some wedding video music suggestions, as well as what you are allowed to do and what is not legal when it comes to using music in your wedding video.
First Things First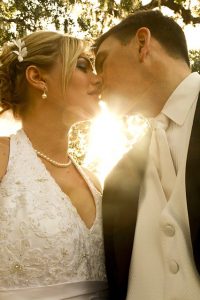 Will the wedding video just be made for the happy couple? Or will it be distributed among the guests and posted online onto sites such as YouTube?
The reason I ask these questions is that the answers will determine whether you can legally use existing music in your video free of charge, or whether you will need to secure a sync license to use a piece of music.
If you have already purchased music for listening pleasure and plan to use this in your wedding video, if the video is for the couple only, will not be distributed and will not be put online, then you won't need any licenses to use the music.
On the other hand, if the video will be distributed among the guests and will be posted online, then you will need a music license for each piece of music to legally be able to use the tracks.
You could have original music created for the video. This is one way around the legalities of licensing. Perhaps one of the guests is a composer or knows how to do some music production. You might be able to entice them to create a music score for your video as a wedding gift. Or hire a professional composer to do it.
Music Licensing is the Best Way
This is far more simple than it sounds, unless you want to obtain licenses to use the latest Katy Perry track.
There are loads of music licensing websites online these days and they are overflowing with music in all genres. For the purpose of a wedding video, licenses are very cheap and are well worth getting. No matter what mood or tone you want the music to be for your wedding video, you will find heaps of music tracks to suit – with or without vocals. Tracks also come in a variety of lengths, from super short to quite long.
Wedding videos run for an average of between 5 to 10 minutes, depending on how much footage you want to cover. There will no doubt be speaking parts where music isn't required, so generally about 2 or 3 tracks is enough to cover the length of your video.
My favourite music licensing website is Songtradr. It's very easy to use and all the music found on their platform is cleared for licensing. You simply search for the music you want and, when you find it, select the license type (personal or wedding video) and purchase the license. After this you can download the high quality track and use it in your wedding video.
It's easy and it it's not expensive. It's well worth it for a keepsake you will treasure for many years to come.