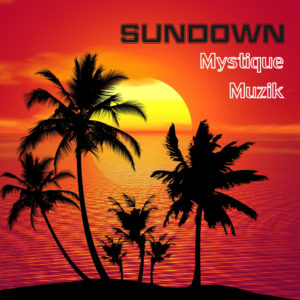 Title: Sundown
Artist: Mystique Muzik
Genre: EDM – Lounge/House/Dance/Chill
Preview Track On: Songtradr
Tempo: 128 BPM
Key: C
Description and Suited To

SUNDOWN is a cool, somewhat chilled dance track that would perfectly suit an evening beach party. Play it while everyone downs a few drinks and warms up for the dance party ahead. It's basically a mix between a chill out lounge track and a club track, due to it's dance beat throughout. It's a track that would be just at home in a club as it would in a relaxed lounge bar.
It's an instrumental EDM that is not only suited to your listening enjoyment and for parties, it would also work well in projects; such as films, videos, advertising, maybe even in the gym. As far as cinema goes, scenes where there is a sunset beach party or pool party would be complimented perfectly with Sundown playing in the backdrop. It could even be good for certain promotional videos.
Check it out now on the Songtradr platform for licensing, or on SoundCloud,  iTunes, Spotify and other online retailers.
Instruments

Arp, bass, filter, flute, synths, organ, piano, drums, sfx
Moods

Happy, fun, chilled, sexy, dreamy, positive, uplifting, relaxed, upbeat
License This Track On: Songtradr