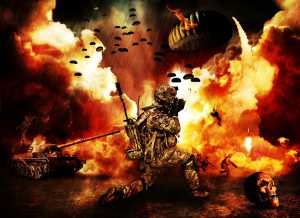 Title: Thy Will Be Done
Artist: Mystique Muzik
Genre: Cinematic Production Music
Preview Track On: Songtradr
Tempo: 120 BPM
Key: C
Description and Suited To

Thy Will Be Done is a short cinematic production track of around 2 minutes available for music sync licensing. It has a driving and almost march-like rhythm which would really suit a movie scene where troops of some kind are going into battle. It really sounds like it would suit a war/battle movie of some description, the era either past, present or future. Even a dystopian film would work, or horror.
Just as much as this track would suit a movie, it would be equally as effective in a video game; either as mood music in the game, or featured in the game's trailer. Would suit many types of first person shooter games, or games that involve armies.
The track has a ominous overtone like something is about to happen, something is about to go down in a big way. It's the perfect lead in for a battle scene and the track just screams danger ahead in its tone and urgency. Definitely give it a listen and check it out.
Instruments

Drums, strings, synths, SFX, bass synth, orchestral accents, cymbals, ambience
Moods

Confrontational, danger, dramatic, intense, urgent, suspense, powerful, terror, driving
License This Track On: Songtradr