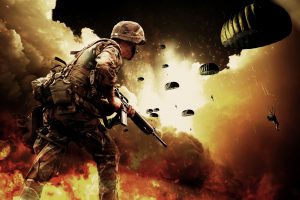 Title: Lock and Load
Artist: Mystique Muzik
Genre: Cinematic Production Music
Preview Track On: Songtradr
Tempo: 120 BPM
Key: D
Description and Suited To

Lock and Load really delivers if you are looking for an instrumental production track that is dramatic, suspenseful and full of aggressive energy. When it comes to films, any scene with dramatic action would be intensified with Lock and Load driving it. Perfect for the build up to battle sequences or any scene where there is conflict. Likewise, this piece would really suit action video games such as first person shooters. Game and film trailers could also find a home for this instrumental music track.
Other applications for Lock and Load include certain video productions where the message is intense and urgent. Its blend of dramatic and powerful synths and bass percussion elements really drive this cinematic music along. Heavy drums accentuate the track throughout. Lock and Load starts of slow and sparse, but builds and builds to a very dramatic climax. Perfect for the build up to action unfolding on screen.
Running for just over 2 minutes, it's well worth a listen.
Instruments

Bass, drums, synths, cymbals, ambience, SFX
Moods

Intense, urgent, powerful, suspenseful, dramatic, scary, thriller, driving, aggressive, ominous
License This Track On: Songtradr