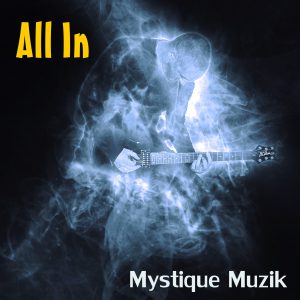 Title: All In
Artist: Mystique Muzik
Genre: Rock/Metal
Preview Track On: Songtradr
Tempo: 90 BPM
Key: C
Description and Suited To

All In is an instrumental rock track that runs for a little over two minutes. It's aggressive and powerful with a hint of metal. Dampened verses and hard hitting choruses make this a very powerful and "in your face" track.
Applications for sync licensing could include movies, other types of films, documentaries, definitely video games that are assertive, and certain types of videos. The length makes it a perfect musical accompaniment for movie and game trailers. Even certain types of television commercials or internet advertising could be successfully reinforced with this music.
All In's tempo is slow to mid, but it delivers plenty of punch and adrenalin. If you like your music hard and to the point, then this instrumental fits the bill perfectly.
Instruments

Bass, drums, electric guitars, cymbals, acoustic guitar, SFX
Moods

Intense, powerful, dramatic, driving, aggressive, hard, heavy, uplifting, motivating, assertive
License This Track On: Songtradr