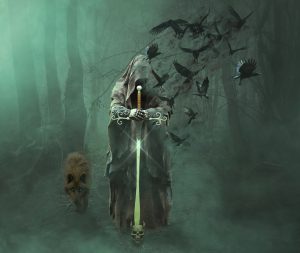 Title: Wicked
Artist: Mystique Muzik
Genre: Cinematic Production Music
Preview Track On: Songtradr
Tempo: 90 BPM
Key: C
Description and Suited To

If you are chasing a short instrumental track that starts slow and builds dramatically, beginning with a sense of anticipation and then delivering with dramatic and suspenseful tones at the end, then Wicked is it.
It's only 1:35 in length, making it perfect for trailers, whether for games or for film.
For licensing applications, any scene that requires a feeling of tension, danger, suspense or foreboding would really be brought to life with Wicked backing it up. The same goes for video games. For the lead in to an action sequence or a scene of conflict, this music would work really well.
A blend of rather raucous synths really drives this track throughout, with dramatic strings layered over the top for the second half to add a melody. Percussion is somewhat sparse at times, but intense. Wicked builds to a dramatic climax and arrives at a hard ending.
Running for just over a minute and a half, Wicked is well worth a listen, so check it out now on Songtradr and SoundCloud.
Instruments

Bass, drums, synths, cymbals, strings, SFX
Moods

Intense, ominous, suspense, urgent, powerful, dramatic, scary, thriller, driving, aggressive
License This Track On: Songtradr