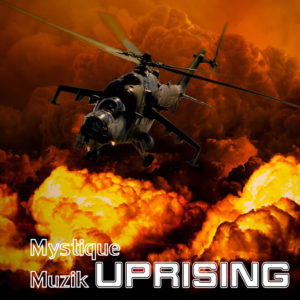 Title: Uprising
Artist: Mystique Muzik
Genre: Ambient, Alternative, Experimental Rock
Preview Track On: Songtradr
Tempo: 70 BPM
Key: F#
Description and Suited To

Uprising is an instrumental production track that is somewhat of a paradox in styles. The first half of the track is atmospheric and chilled, but builds as more and more layers of instruments are added.
The second half of the track, while adhering to the same melody line, is heavy rock, with raucous rhythm and squealing lead guitar, backed by a heavy drum pattern.
It's an ambient track with a surprise ending that really ramps up the song and drives home the track's title.
When it comes to licensing possibilities and projects, there could be a number of interesting uses for an eclectic track like Uprising. It could certainly be used as part of a movie score, where a serene scene suddenly turns dramatic and dangerous as the heavy metal guitar kicks in midway through the song. The first half of the track, the mellow part, could work well as a backing track for a TV ad or an online video.
You can licence Uprising on Songtradr, or buy the track for your listening pleasure on Apple Music, Amazon Music, or stream it on Spotify.
Instruments

Choir, organ, piano, pad, muted guitar, electric guitar, lead guitar, sfx, drums, bass, synths, bass synth
Moods

Edgy, hopeful, inspirational, intense, optimistic, passionate, serene, uplifting
License This Track On: Songtradr