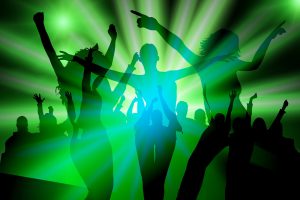 Title: Repeat Offender
Artist: Mystique Muzik
Genre: EDM – Dance/Trance
Preview Track On: Songtradr
Tempo: 130 BPM
Key: A
Description and Suited To

If you want to pack out the dance floor, then play this EDM track. It is a little monotonous, but its infectious beat is sure to ramp up any party. Repeat Offender sounds like a series of loops playing the same pattern, but with slightly different instruments each time. Towards the end the loops are layered over the top of one another to vary the sound even more.
This instrumental music track runs for about three minutes and is more EDM House and Dance than anything else, though it has a few slight Trance elements.
I can really see this piece of music being popular in a movie soundtrack. Not only does it obviously suit any sort of party scene – such as in a bar or club or a beach party – it sounds like a great driving song. Meaning, I believe it would be well suited to scenes where someone is driving through the city at night in a flashy car, or perhaps even a car chase.
Certain action sequences in video games would be made all the more interesting and engaging with Repeat Offender driving the action. Definitely worth a listen for sync licensing for your projects.
Instruments

Drums, synths, bass, cymbals
Moods

Fun, repetitive, happy, party, uplifting, cheerful, energetic, motivating, sexy, energised
License This Track On: Songtradr