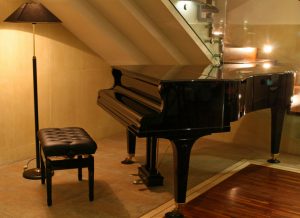 Title: Redemption
Artist: Mystique Muzik
Genre: Cinematic Production Music
Preview Track On: Songtradr
Tempo: 120 BPM
Key: C
 

Description and Suited To

Redemption is a positive, mellow and uplifting track that starts off slow and builds up to a crescendo of piano and a beautiful violin arrangement. Soft drums enter the mix, finishing off with drums that are a bit more of an up tempo dance beat.
This instrumental music track would really suit a romantic scene in a movie where a problem has just been resolved between the male and female lead characters or similar. I could also see it working extremely well as mood music for wedding videos or presentation-style videos.
The blend of piano and violin is quite majestic, soothing and tranquil, while at the same time being extremely hopeful and uplifting in tone. Ambient SFX sounds also play throughout the track adding to its overall calming feel.
Redemption would even be a winner included in a relaxation or meditation video, or playing as background music in a day spa or massage parlour. For any sort of romantic or sentimental scene or occasion, this music track would make the perfect accompaniment.
Instruments

Ambience, SFX, piano, violin, strings, bass, drums, pads
Moods

Uplifting, romantic, optimistic, elegant, hopeful, passionate, positive, sentimental, inspirational
License This Track On: Songtradr