Licensing music isn't difficult in the modern era. The internet is full of music sync licensing websites and they make this process a breeze. Gone are the days of battling legalities and trying to comprehend the entire process of rights and different rights holders. Today, these websites handle all that for you. In many cases it's simply a matter of finding the music you want and clicking the buy button.
In this post I'll give you a quick rundown of how to license music for your projects and show you just how simple it is on my favourite music licensing site – Songtradr.
Introducing Songtradr
Just a quick intro to the Songtradr platform. These guys are relatively new, having officially launched their company and music licensing website in March of 2016. I actually came across them through a Facebook ad, clicked through and was impressed with how easy their site was to look at and navigate. I prefer simplicity over complex because, really, nothing needs to be complicated. Less is more and simple is better all round for everyone.
As a music composer, the upload process is also extremely easy and straightforward, but at the same time has quite a bit of information to input so music tracks can be accurately found in relevant searches. What this means for buyers is they will save a lot of time in searching for the right music for their project.
Searching For Music On Songtradr
Let's say you are looking for music to suit a movie trailer and the genre is horror. You simply input some details for the kind of track you are searching for in the Songtradr search tool, which will look something like the details in the screenshot below.

I selected a "mid tempo" for the track and chose "Horror" as the genre. In the license area I selected the kind of license I'm seeking. In the case of our example – "Film Trailer". For the kind of search I left it as "Intuitive". There are options for searching by track title, artist name etc., but I just left it at the default on this occasion. One other parameter I was sure to select was "Instrumental", as I didn't want vocals.
Once I click the blue "Search" button, relevant results are instantly displayed. See below.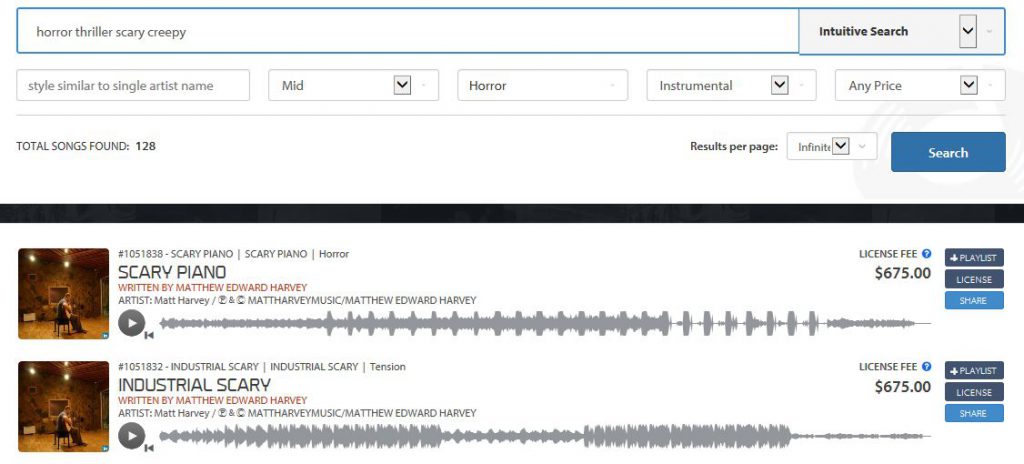 Songtradr finds songs based on your search criteria by filtering through the catalogue, matching up relevant song titles, keywords in descriptions, and the multitude of tags attached to each music track in the Songtradr catalogue. It's always a good idea to input a few keywords related to the "mood" of the track you hope to find, as mood makes up a large portion of the tags artists use to describe a track.
Buying Music On Songtradr
Once you find a track you like and decide to purchase the appropriate sync license, you simply click the blue "License Now" button.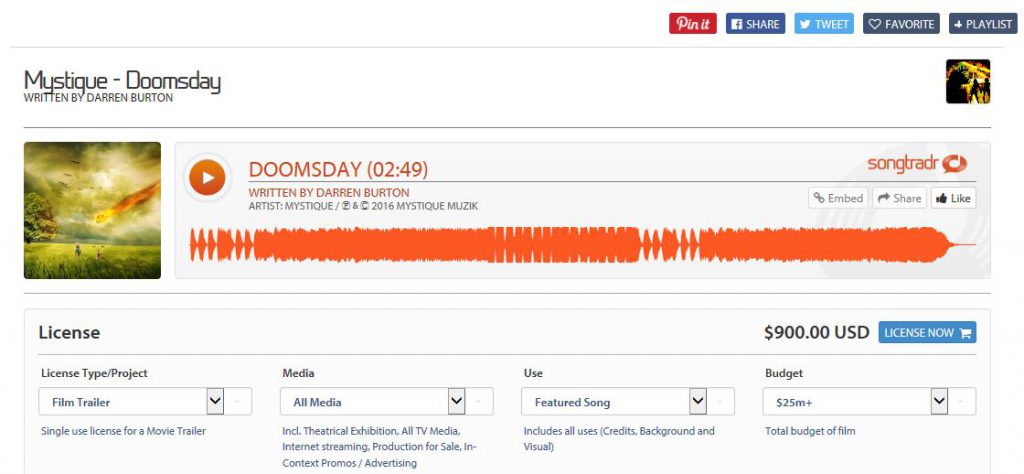 Another screen will appear where you input your payment details and personal details etcetera. Once you have filled out this information you will be able to download the high quality sound file for use in your project.
It's All Very Easy With Songtradr
The entire process is quick and extremely easy on the Songtradr platform. Seriously, if you are looking to license music for your projects, give Songtradr a try. There is loads of fantastic music on there. If you have a few moments spare, go on over to their website and have a listen to some of the tracks in my catalogue or browse their website. Just click on the logo below to go take a look.