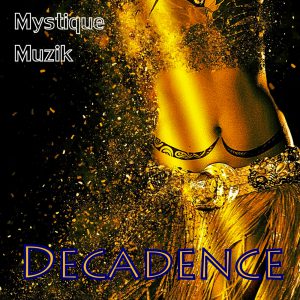 Title: Decadence
Artist: Mystique Muzik
Genre: EDM – Hardcore Dance
Preview Track On: Songtradr
Tempo: 138 BPM
Key: E
Description and Suited To

Decadence is more of a hardcore dance track with a driving beat and bass line. It's a very up tempo instrumental EDM that is sure to be a hit on the dance floors in bars and clubs. It's powerhouse in its structure with no slow points. The driving beat goes from start to finish.
From a music licensing and synch licensing perspective, I could see Decadence being used in many action scenes. It would work really well with driving scenes, or even a car chase. Any scene in any type of film, TV show, trailer or video where there is either a party atmosphere or intense action taking place, this track would make a really awesome accompaniment to drive the scene hard. Even sensual or sexy scenes could be well suited with the inclusion of Decadence as part of the score.
Other positive applications for Decadence include gym sessions ad personal training sessions, Zumba classes, wedding parties, birthdays, or videos where you need some upbeat and powerful music to really move the visuals along.
Even video games could find a home for this piece of energetic and motivational dance music. Check it out now on Songtradr (Licensing) or on SoundCloud.
Instruments

Drums, bass guitar, synths, female vocal sfx, sfx
Moods

Fun, party, driving, powerful, upbeat, motivating, energetic, lively, exciting, sexy
License This Track On: Songtradr