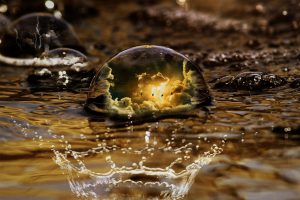 Title: After the Rain
Artist: Mystique Muzik
Genre: Cinematic Production Music
Preview Track On: Songtradr
Tempo: 120 BPM
Key: C
Description and Suited To

After the rain is more of a soothing, mellow and ambient track. It combines a seductive blend of strings, synths and piano as well as ambient sounds for accents and enhancements. The overall mood of this track is uplifting and could even be considered romantic for some movie scenes.
I can really see this music track suited to many styles of video production because it's not in your face, loud or arresting. Although more mellow in nature than some of my other cinematic tracks, that's not to say it can't be at the forefront of a specific scene, or even be used as trailer music.
This piece of music is only short, but it's one of hope, passion and optimism. Think of a scene where something has just been accomplished or resolved, or where two lovers finally come together again and you could use After the Rain very effectively. It is emotive, inspiring and eternal. Definitely a must have track when sync licensing music for movies and video.
Instruments

Ambience, piano, drums, harps, chimes, synths, strings, violin, bass, bells, choir
Moods

Uplifting, romantic, hopeful, soothing, optimistic, positive, sentimental, inspiring
License This Track On: Songtradr